Moving on a Budget: What to Consider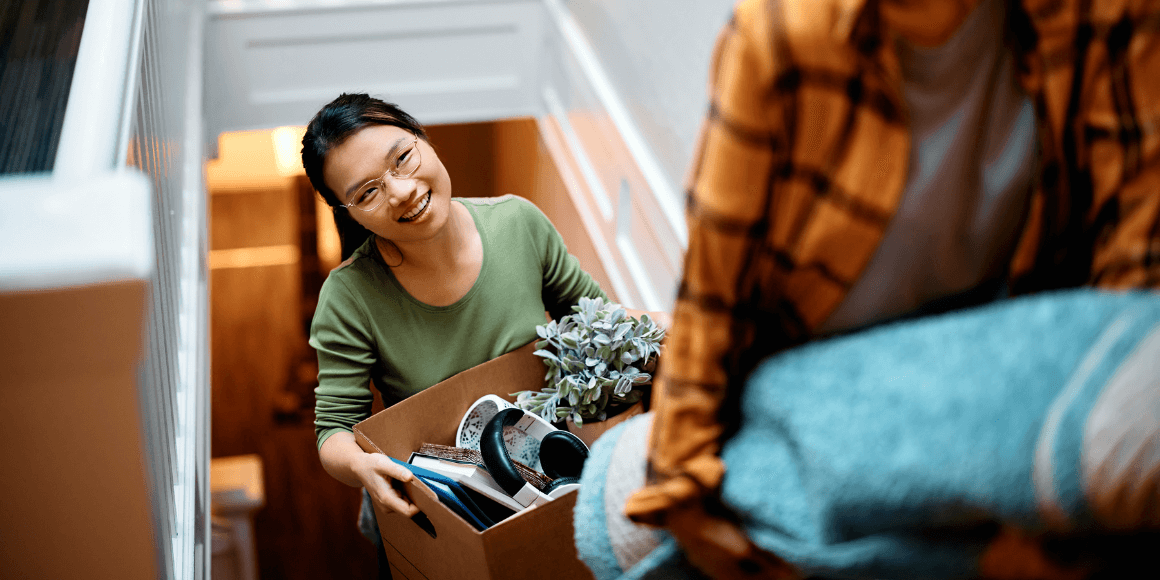 Moving can be exciting, but it certainly isn't always easy. There's a lot of hard work involved and it can be costly. However, moving doesn't have to be overly stressful or expensive.
While it can't be done for free, moving can be done on a budget! Let's take a look at how you can successfully move without breaking the bank.
What to Consider Before Moving on a Budget
Moving shouldn't be taken lightly. It's a big, expensive and time-consuming process. Before making the decision to move, it's important to do some research.
Consider the costs of where you're moving compared to your current cost of living. This includes rent or mortgage, utilities, home or renters insurance, and goods and services in the new area if it's a different city or state.
If you're renting an apartment, you may also need to consider a security deposit, the first month's rent, and setting up utilities. If you're purchasing a house, you may need to consider saving for and paying a down payment as well as making repairs to the house. Remember to avoid using a credit card throughout the moving process in order to avoid interest!
How to Create a Moving Budget
Once you've done your research, it's time to consider your timeline for moving and to create a budget so you can save money where you can. When you're moving on a budget, consider the following points:
Inventory Your Current Residence
Preparing to move is a good time to downsize. Evaluate what's moving to your new residence and what you're selling, donating, or throwing away. This will help you get an idea of what size moving truck you'll need, and it will also help you avoid packing and moving items that you don't plan on keeping.
While you're evaluating what's in your current residence, it's important to remember not to overbuy for your new residence. It's easy to start picturing yourself in your new home and purchase new decorative items, furniture for your new patio or balcony, and updated kitchen items. However, it's important to freeze your spending throughout this time so you have money set aside "just in case" and to also avoid having to pack and move those items.
Determine How You're Moving
Knowing what's moving into your new home will help you determine movers, the size of your moving truck, packing materials and more.
If you're making a short-distance move to the next town or within the same city, you may want to consider a DIY move and ask if family and friends are available to help. However, it's important to consider if your friends are able to safely move heavy furniture, how much money you'll actually save by having your friends help, and how much stuff you have to move. Remember to offer lunch or dinner to those who are able to help!
If you're making a move across states or have a lot of stuff to move that your friends may not be able to handle, you may want to consider a moving company. Keep in mind that moving companies charge a base fee and may charge extra for large or fragile items such as pianos, safes and pool tables.
Decide When You're Moving
Did you know the season in which you're moving can affect your moving costs? That's right. Moving costs are higher during the summer months because few people move in the winter due to the snow and cold.
May through September are generally peak moving months when rates are higher, while other months may have off-season rates. However, if you are moving when your lease ends or when your house closes, you may not have control over the time of year you're moving in.
Remember Potential Additional Moving Costs
Some additional costs you'll want to consider include:
Childcare: If you have a young child, it may be easier to see if a family member or your daycare provider can look after them to make moving go as smoothly as possible.
Pet care: The last thing you want during moving is for your beloved cat or dog to get loose. It's best to determine who is available to watch your pet for a few hours or what your plan will be if they'll be staying with you throughout the move.
Time off from work: Do you need to take time off from work? Will it be paid time off? If not, how will it affect your budget?
Cleaning: You may need to clean your current residence after moving out — or hire a professional to do so.
Determine What You Need for Moving
Consider what materials you need for moving, such as meals, moving fees, gas, moving insurance, boxes, packaging tape, furniture covers, packing materials (remember to use linens and towels to pack fragile items to save money), storage unit rental, and potentially temporary lodging.
Improve Your Financial Well-Being, No Matter Where Life Takes You
7 17 Credit Union has several resources and products designed to help members improve their financial well-being during life's major events, from moving on a budget to getting married and more. Become a member today to take advantage of our financial resources.