How to Budget for a Wedding: A Simple Guide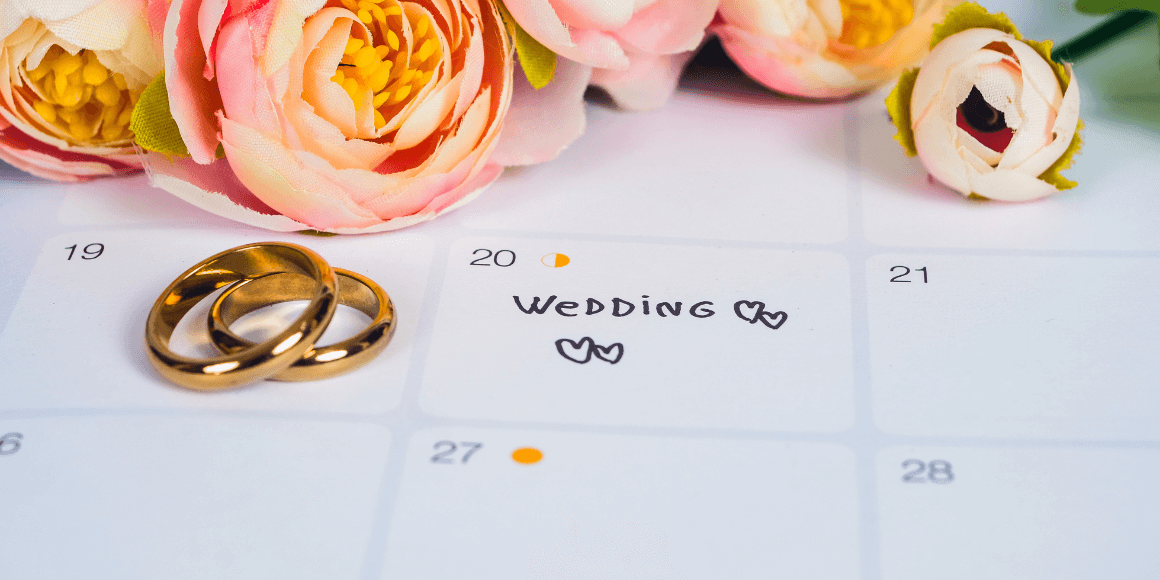 The holiday season is one of the most popular times of the year to get engaged. In fact, 40 percent of proposals happen between Thanksgiving and New Year's Day. If you're one of those lucky couples, you're probably asking yourself, "how do we pay for all of this?" Don't worry. We've got you covered with a few tips on how to create a wedding budget that won't break the bank.

Have the conversation
Couples often end up spending a lot more on their wedding than they initially planned. Have the conversation early on as to how much you and your fiancé can spend while taking into consideration your goals for the next few years. For example, do you want to buy a house, start a family, buy a new car or pay off student loans? Make sure that the money you spend now doesn't hinder you from achieving some of those financial milestones. Considering the average cost of a wedding runs $35,329, that's a pretty good possibility. Make sure you also give yourself time to save; paying for wedding costs with cash instead of credit or loans makes for a much more financially sound future together. One last piece of advice in this area: don't count on making the money you spent back in gifts.

Research
One of the best things you can do for yourself early in the wedding planning process is to find a solid budget spreadsheet that includes all of the potential costs for the day. KOFE offers one in their publication The Wedding Planner. You can also find helpful spreadsheets from Real Simple, tips on how to create one at Wedding Wire, and digital calculators from The Knot, among thousands of helpful online resources. Some of these include tips on what percentage of your budget you should allocate where to give you a clearer picture of the financial breakdown.

Prioritize within your budget
For some couples, the food and the music are the most important components to the day therefore they take up the largest budget areas. For others, the photography is most important. It's up to you and your fiancé to make that decision, but it does help you focus your efforts.

Make cuts where necessary
The key to staying on budget is cutting out the fluff. Removing those items that are a "nice touch" but aren't necessary will help your money stretch further. Wedding favors, which top The Spruce's list of top wedding money wasters, can be a good place to start. Sure, they add something to the table, but is it worth spending the money or time creating something that will probably end up in the back of your guests' closets – or even worse, their trash – the next day?

Sometimes cuts include the guest list
While there are set costs within a wedding budget, like the church, reception venue, DJ or band, a lot of the cost has to do with the number of guests at your wedding. This doesn't mean that you should slash names from the guest list with reckless abandon, but with careful consideration, you might realize there are some guests you don't need to invite. After all, a 200-person guest list comes with a much heftier price tag than 125 or even 150 people.

What can you DIY?
The thought of crafting something Pinterest-perfect on your own can be incredibly overwhelming, but it can make your budget stretch. Review the vendor cost estimates that you have plugged into your spreadsheet to see if there is something you can take on yourself. For example, $1000 for fresh flower bouquets could become $200 or $300 by following a step-by-step tutorial on how to make paper or silk flower bouquets ahead of time. A DJ or a band are great, but you could easily cut out $750 or more if you make your own playlist, and enlist a friend to make major announcements through the night.

How can you save money quickly?
The obvious answer is to take on a second job, but that's not always feasible when you're trying to plan your wedding, work your regular job and handle day-to-day life. A good first place to start is to review your monthly budget to see where you can tighten your purse strings. Maybe you can limit your dining out for the month, or plan to brown bag your lunch every day until your big day. You can put all of your extra cash into a savings account to build some interest.

Want even more return on your savings? Consider a Certificate, which helps you earn dividends on your deposits at a better rate than a regular savings account. Certificates have a minimum deposit requirement (7 17's is $500) and a variety of rates and terms so that you can choose which is best for your personal savings goal. For example, if your wedding is in 20 months, you could put your funds into an 18-month certificate, making funds available for final deposits and last-minute costs. Remember, certificates carry a penalty for early withdrawal, so make sure you keep funds available in a checking, savings or Money Market account to cover your bills between now and the wedding.

These are just a few ways that you can plan your wedding without breaking the bank. For a more in-depth look at The Wedding Planner, please visit: www.717cu.com/KOFE. Once you proceed to the KOFE site, select financial publications from the KOFE table drop-down menu. 7 17 has partnered with KOFE (Knowledge of Financial Education) to provide free financial education tools to help support members' long-term financial health. Resources include publications, videos and more. Plus, you have free access to financial coaches, seven days a week!