Planning to Move? Avoid These Top Money Mistakes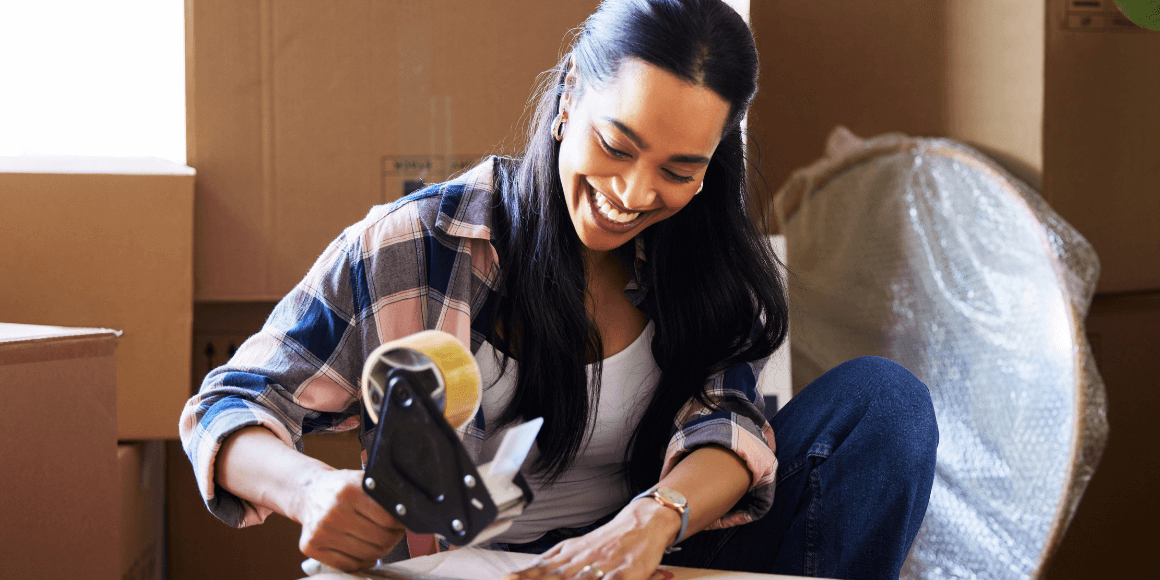 Moving isn't the easiest thing to do, but moving into a new home can be rewarding—as long as you avoid some of the common financial pitfalls that come along with it. Let's explore some of the typical money mistakes people make while moving and how to avoid them.
Moving Mistakes to Avoid When You're Planning to Move
Make sure you're well prepared for the moving process without breaking the bank with these top tips:
Not Setting a Budget
Moving can be expensive, especially when you factor in packing materials, moving trucks, and even a moving team. Packing up your belongings and carrying them out to the truck and transporting them to your new home is hard work and you may want to avoid it altogether. But can you afford it?
Setting a budget will help you determine if you're able to spring for the full-service moving team or if you need to ask family and friends to help you move. Online moving calculators can be helpful in determining how much space you'll need in a moving truck if you're planning on asking family and friends to help you. Don't forget to include lunch or dinner expenses for them if you're enlisting their help!
Knowing how much space you need in a moving truck and what it would cost you is also helpful knowledge to have if you plan on hiring a moving company. Having an idea of how much your move will cost you can help you avoid overspending on a quote from a moving company.
Not Asking for Estimates from Multiple Moving Companies
Hiring the professionals to help you move? One of the biggest mistakes you can make is not shopping around.
Make sure you get quotes from multiple moving companies. And don't be shy about the fact that you're shopping around—some companies may offer you a lower quote in order to secure your business.
However, be careful going with the lowest quoted movers; you want to make sure your items are in good hands. The lowest bid may equal low-quality work, potentially resulting in broken or damaged items. Make sure you're looking up reviews for the moving companies online and going with a reputable one that's still within your budget.
Not Decluttering Before the Move
We know, it's another thing to add to your long to-do list for the move, but not decluttering before you move out of your current residence can be a huge mistake. If you don't declutter before you're planning to move, you're going to be packing up items you may not want, which results in extra packing material costs and takes up space in the moving truck.
If those items are large furniture pieces, that can mean either multiple moving trucks or needing to make multiple trips. Plus, if the items you don't want are in good condition, you can potentially sell them to help offset the costs of moving!
Not Using Towels and Linens as Packing Material
We've all been there—you go to the store to purchase moving boxes and get a couple of large rolls of bubble wrap and packing paper and then end up not using nearly enough of it to have been worth it. To save money on packing materials, use your linens and towels to wrap up dishes, lamps, glasses, and other breakable items. Plus, since you're using the towels and linens as packing material, you may be able to cut down on the amount of boxes you need to purchase.
Not Planning Ahead for Moving Day
Make sure you have a solid plan in place for moving day, especially if you have friends or family members helping you with the move itself.
This includes having your packing finished at least one day before the move-in date. You don't want to be scrambling to finish packing while your friends and family are waiting to fill the moving truck. Having everything packed and ready to go out the door as soon as your moving crew and truck have arrived will help things go much smoother and result in less stress.
Know your budget throughout the entire process. This includes expenses on the day of the move, such as food for friends and family members who are helping you.
Create a checklist of everything you need to do prior to the move-in date and a timeline. For example, you'll want dates of when you need to have utilities turned on, off, or transferred.
Make sure you have a plan in place for your pets and children. It's all too easy for pets to get outside during the shuffle of transferring items from one area to another, and your front door is going to be open a lot as boxes are taken outside.
Get Prepared for All of Life's Important Events
From saving for an emergency fund to planning to move, make sure you're prepared for all of life's big events by becoming a 7 17 member today.